THE CAR CHICK
---
Automotive Expert
Personal Car Shopper
Dynamic Speaker
Radio & Television Host
Race Car Driver
LeeAnn Shattuck is an automotive expert, entrepreneur, award-winning author, speaker, radio and television host, and race car driver. LeeAnn is known around the world as "The Car Chick™" and has been featured on national radio and television programs including NPR, The Cooper Lawrence Show, Daily Balance with Kim Jacobs, and the Speed Channel's "Are You Faster Than a Redneck?" She also hosted the national syndicated radio show, America's Garage™ during its 8 year run and the first two seasons of "Rust Rescue", a TV show about restoring classic cars on a $10,000 budget.  LeeAnn currently produces and hosts "The Straight Shift™" podcast and the internet channel, Car Chick TV™.
She is also the owner of a unique car buying service that helps women and smart men get a great deal on a new or used car without the hassle and frustrations that come with traditional car shopping.
LeeAnn is passionate about educating women about cars and about empowering them to make informed decisions when purchasing, selling and servicing automobiles. She is considered one of the top influencers of women in the automotive industry by Michelin, and she serves on the panel of Expert Women and the Professional Speakers Bureau for AskPatty.com.
LeeAnn is also a self-professed "car nut" and a champion race car driver. She has loved cars her whole life and began learning high performance driving at the age of 8. LeeAnn has raced with the Porsche Club of America, and currently drives for a woman-owned race team in 24 hour endurance road races.  On the street, LeeAnn zips around in her 2004 Mini Cooper S, named "Maggie".
MEET MAGGIE
---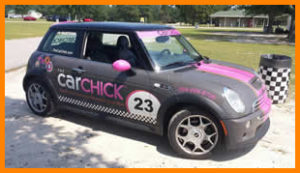 "Maggie" is my beloved 2004 Mini Cooper S.   Yes, I name my cars, and I encourage my clients to name their cars as well.  I believe that if you name your car, it becomes a member of your family, and you are more likely to take good care of it.
In addition to being a roving billboard for my company, Maggie also serves as a fun track car.  She is fitted with racing brakes, an adjustable suspension, and a stiff sway bar.   Her new wrap graphics reflect Mini's strong rally racing heritage.  The number "23" represents my official racing number for Car Chick Racing.
Maggie gained celebrity status within the various Mini Cooper Clubs around the country when she was featured on the Speed Channel's competition reality show, "R U Faster Than a Redneck" in 2013.