(Disclaimer:  This post contains links to products and services I used in my home office redesign project.  They are not affiliate links, and I won't make a dime if you click on them.  I am simply posting them for your information and convenience, in case you find them useful.)
If you have been following me on social media, you probably know that I decided to convert my formal dining room into a new home office this summer.  Many people wanted to know more about the method behind my madness, so I decided to document the transformation on my blog.  If you missed Part 1:  The Why, you can read it here.  I also ended up learning some unexpected lessons during the process that can be applied to running a business or to life in general.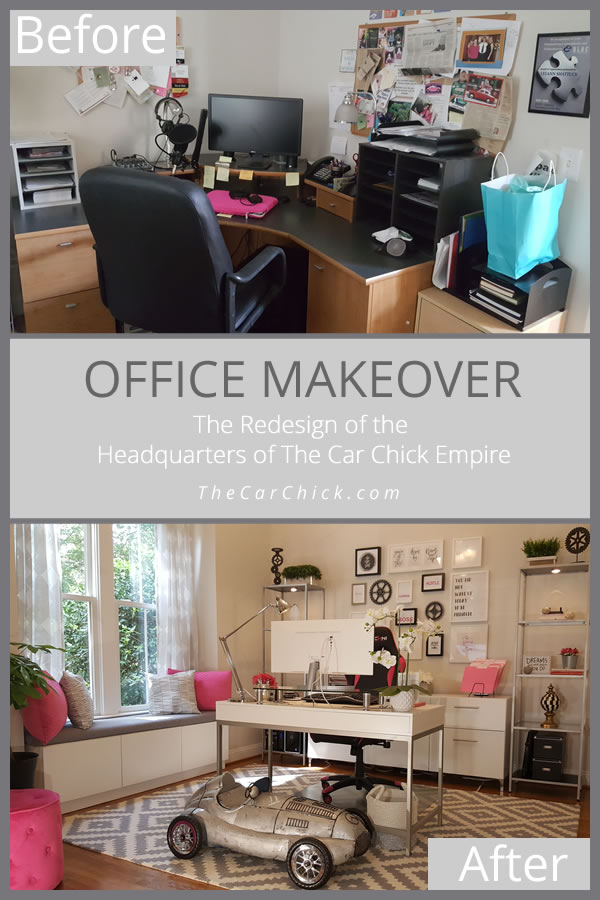 PART 2:  THE INSPIRATION FOR THE HEADQUARTERS OF THE CAR CHICK EMPIRE
I wanted my new digs to be more than just a "home office".  I work 10-12 hours a day running three businesses, so I needed a dedicated, fully functional and inspirational space.  Or, as I like to call it, "The Headquarters of the Car Chick Empire".
When I first announced the project on Facebook, I got no small amount of (unsolicited) advice.  Especially from my "car guy" friends.  "Build a desk out of an old car!" they said.  "Install a checkered flag epoxy floor!"  "Diamond plate the walls!"  I had to remind them that I was building an office, not a garage.  Or a man cave.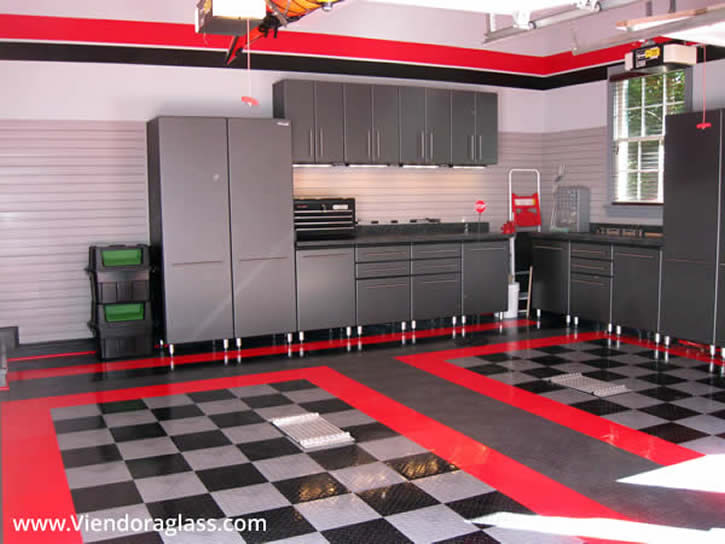 (Cool, but NO.)
I knew exactly what I wanted.  I also knew exactly what I needed the space to do, both functionally and energetically.  I knew that I wanted a light, airy space that would inspire creativity and big ideas.  I wanted it to reflect the Car Chick brand – modern yet feminine with a touch of badass, girl-boss.  And, of course, car-themed, but not blatantly so.  I just had to figure out how to get there.  And how to do it on a VERY modest budget.
Enter the rabbit hole known as Pinterest.  My biggest inspiration came from interior decorator, Heather Luckhurst of Setting for Four, and her beautiful, newly redesigned home office.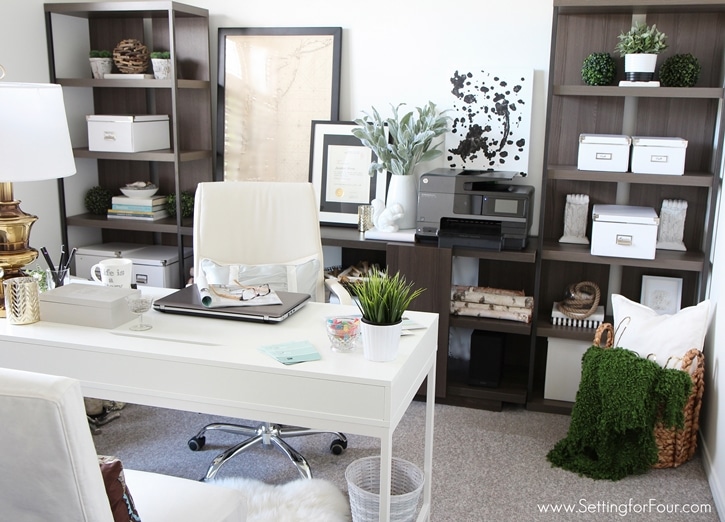 I liked her use of shelves and a console along the back wall as both functional storage and decoration.  I also LOVED LOVED LOVED the white desk in the middle of the room.  The layout was exactly what I had envisioned for my space.  The white and grey color scheme reflected the base colors of my Car Chick brand as well as the light and airy feel I wanted.  Yet it showed a truly functional office, clunky 3-in-1 printer and all.
The stunning work spaces of other "girl bosses" showed me how I could make my office feminine, glamorous and fun with pops of my signature "Car Chick pink" and metallic accents.  Like Leah Remillet's white, pink and gold home office at Go4ProPhotos.com… (OMG that pink chair!!!)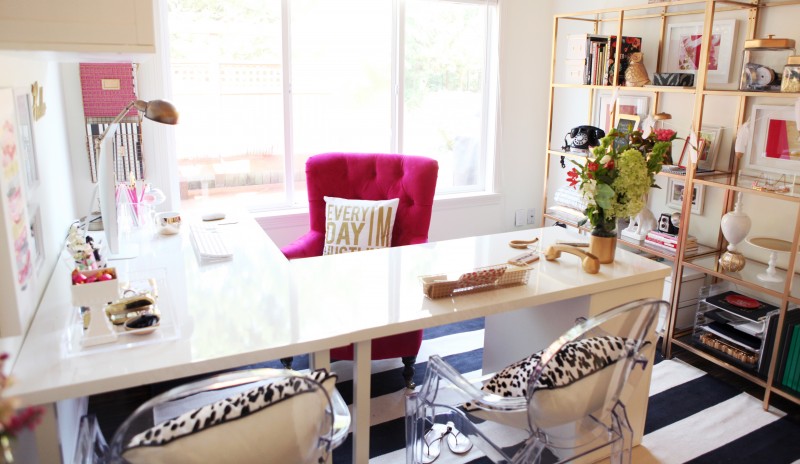 And the functional and fabulous office of Melissa George from Polished Habitat…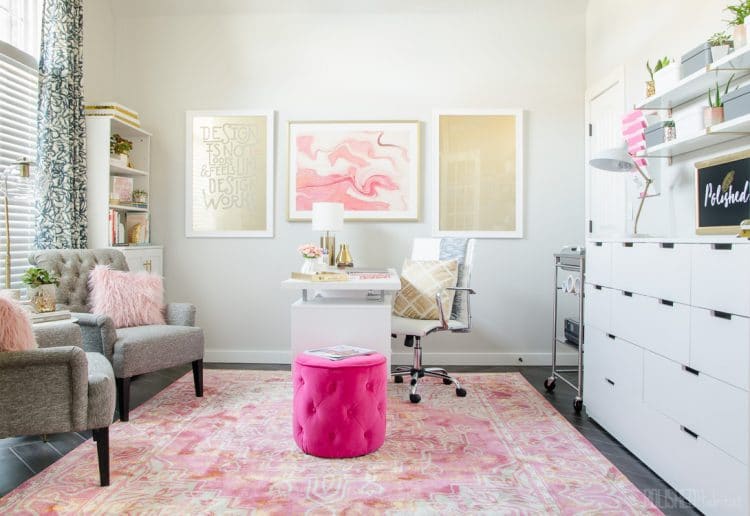 (You know I just had to have that hot pink ottoman!)
Or the sophisticated space of interior designer, Karen Davis…
In addition to providing me with oodles of design ideas, these ladies also introduced me to the concept of "IKEA hacking".   I learned that I could create the high-end, "designer look" I wanted for a fraction of the cost.  I'm all about getting a good deal!
Once I had sufficient inspiration (93 pins worth, to be exact), it was time to get organized and start the design plan.  To be continued…
LESSONS LEARNED
When tackling a new project, do some research to get ideas and inspiration.  That's why they invented the internet, right?!?  Learn from the experience, expertise and mistakes of others, so you don't have to reinvent the wheel.  You will streamline the process and save yourself a lot of time and headaches, trust me!  And you don't have to take every piece of advice you get – especially from macho men about interior design.